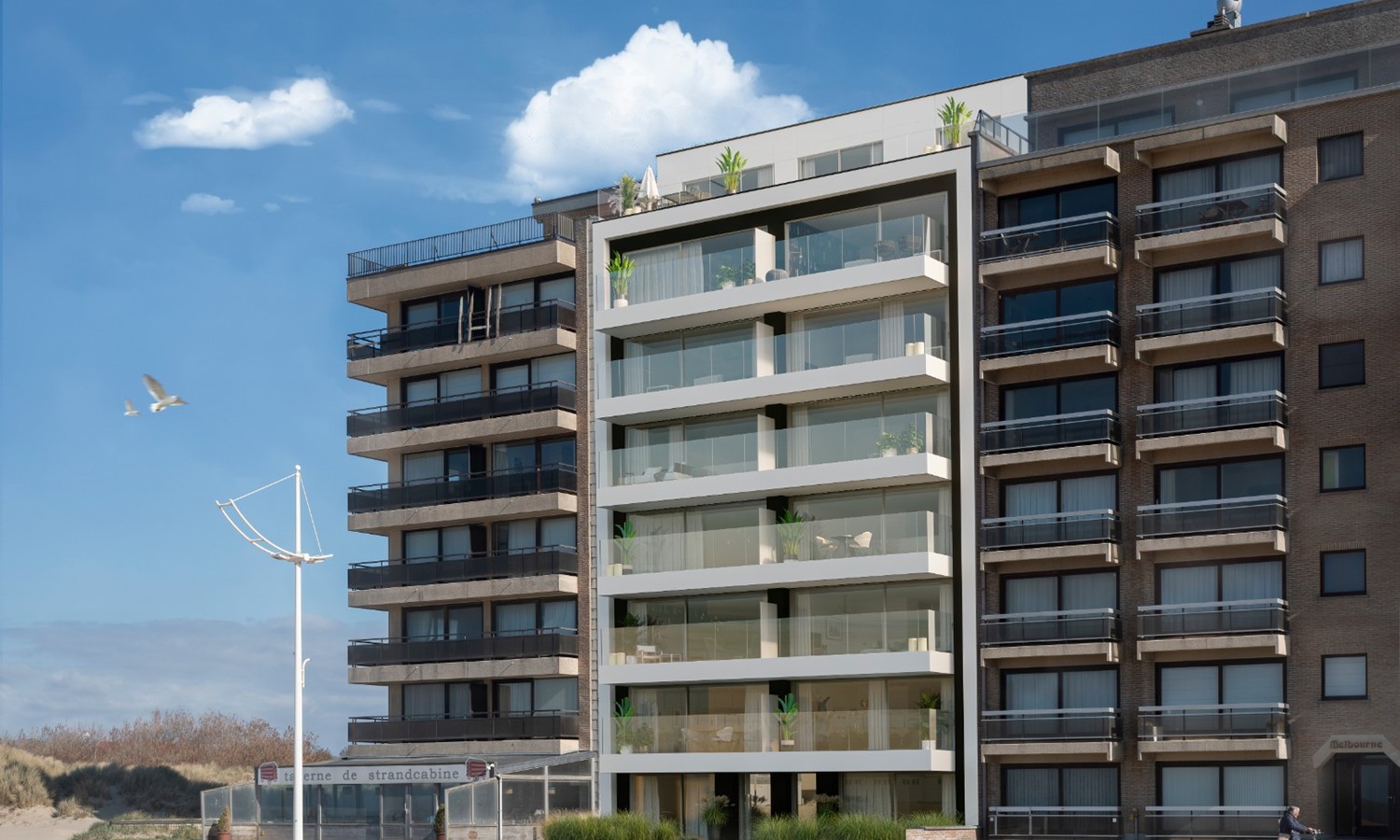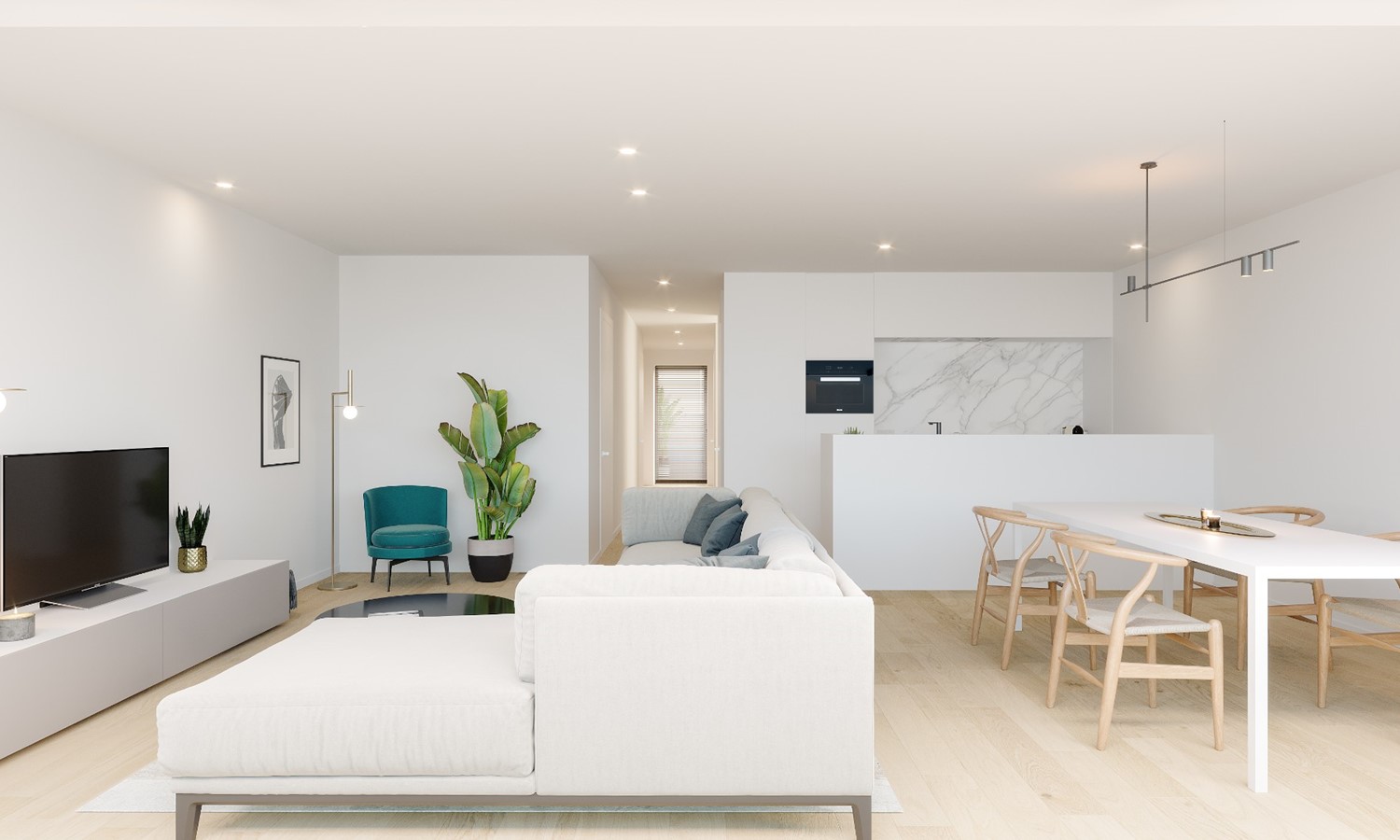 Project For sale at Sint-Idesbald
Ferrel
Panoramic sea view
Beautiful surfaces
Spacious terraces
High quality finish
Well thought-out layout
Do you dream of having your own place on the coast where you can relax every weekend? We have exactly what you are looking for. The new development Ferrel is one of the few new projects we can offer you on the Zeedijk in the pleasant Sint-Idesbald. In addition to a panoramic sea view, you have the added advantage of being only a few minutes away from the shopping centre. Moreover, the dunes of Ster-De-Zee are right next to the building. In short, the perfect ingredients for a sustainable investment.

Residentie Ferrel offers you a choice of 15 spacious apartments, finished in detail and with quality materials. Large windows offer maximum light and provide access to the front and back terraces.

Each apartment also has an individual cellar and bicycle hooks in the basement.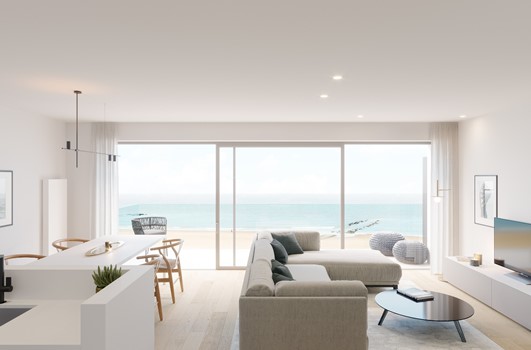 | Referentie | Type | Aantal slpk. | Opp. | Prijs | Status | |
| --- | --- | --- | --- | --- | --- | --- |
| Ferrel - 01.01 | Apartment | 2 | 88 m² | | Sold | |
| Ferrel - 01.02 | Apartment | 3 | 100 m² | | Sold | |
| Ferrel - 02.01 | Apartment | 2 | 88 m² | | Sold | |
| Ferrel - 02.02 | Apartment | 3 | 100 m² | | Sold | |
| Ferrel - 03.01 | Apartment | 2 | 88 m² | | Sold | |
| Ferrel - 03.02 | Apartment | 3 | 100 m² | | Sold | |
| Ferrel - 04.01 | Apartment | 2 | 88 m² | | Sold | |
| Ferrel - 04.02 | Apartment | 3 | 100 m² | | Sold | |
| Ferrel - 05.01 | Apartment | 2 | 88 m² | | Sold | |
| Ferrel - 05.02 | Apartment | 3 | 100 m² | | Sold | |
| Ferrel - 06.01 | Apartment | 2 | 88 m² | | Sold | |
| Ferrel - 06.02 | Apartment | 3 | 100 m² | | Sold | |
| Ferrel - GV01 | Apartment | 2 | 78 m² | | Sold | |
| Ferrel - GV02 | Apartment | 3 | 92 m² | | Sold | |
| Ferrel - Penthouse 07.01 | Apartment | 2 | 97 m² | | Sold | |